News & Updates
Published: Monday, 05 December 2016 16:59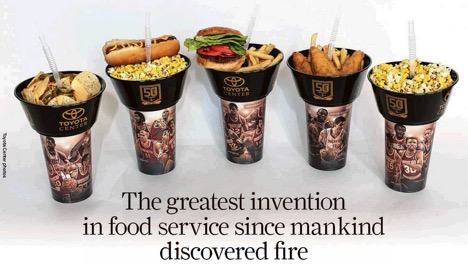 See an excerpt of the article below:
Toyota Center is the first and only NBA arena to present the greatest concession-stand innovation since the spork and hairnets.
It's called the "Grub Tub," a soft plastic bowl that locks snuggly in place over a soda cup. It's got a small hole in the middle so you can stick a straw through the bowl, into the drink, giving fans equal, easy access to popcorn and soda.
The big advantage: Fans can hold their chicken-finger basket and soda in one hand. No more trying to "excuse me, excuse me" past other people in your row while trying not to spill a hot dog and fries in one hand and a 32-ounce Dr Pepper in the other. Sheer genius.
The other night, I took some friends to Toyota Center for my annual eating tour of new menu items. We all were stunned and amazed by the Grub Hub and kicking ourselves for, "Why didn't I think of this?" It's got "Shark Tank" and "As Seen on TV" written all over it. The Grub Tub holds 44 ounces of food, so it's packing a lot of trunk space. They'll hold you, even through overtime.
Toyota Center has four meal deals available in Grub Tubs: Hot Dog with Popcorn & Soda ($18.25), Burger with Fries & Soda ($18.25), Chicken Tenders with Fries & Soda ($18.75) and Nachos & Soda ($15.25). The Grub Hub meals are available at Basket Grills, Bell Street Grill, Space City Dog and Bud and Burger stands throughout the arena.
Grub Tubs are considered "disposable," but you can take them home and use them over and over. They are not microwave or dishwasher safe, however. You have to wash them by hand. Please don't leave them in the sink overnight. I hate that.
I always take plastic soda cups home from sports events because they're huge.
Grub Tub meals come atop one of four different collectible plastic cups commemorating the Rockets' 50th season. The 32-ounce cups have photos of all-time Rockets greats, including Hakeem Olajuwon, Yao Ming, Tracy McGrady, Calvin Murphy, Moses Malone, Clyde Drexler, Robert Horry and more.
(True story: I once challenged Horry to a game of HORSE. But we had to play in my driveway, and he wasn't allowed to dunk. I beat him two straight games.)
Grub Tubs were invented by RP & Associates, a restaurant-supply company in Hermosa Beach, Calif. They're billed as "finally a solution for eating and drinking with one hand." Rockets director of purchasing John Sanborn saw them and made the deal to bring Grub Tubs to Toyota Center.
Rockets souvenir cups fit in car cup holders. I can't believe that fast-food drive-throughs aren't jumping on Grub Tubs. They're much easier - and safer - than digging around for comedian Jim Gaffigan's "bonus fry" that fell to the bottom of the paper bag.
Grub Tubs are adjustable and fit securely on various size cups and bottles - even beer bottles if you want to drink beer through a straw, you weirdo.
Toyota Center benefits because now one fan can order two meals and two drinks and carry them away without creating an Exxon Valdez spill. It's called "upselling." The lines move faster, too. Customers aren't trying to balance 16 items on their arms like a veteran waitress at a truck-stop diner. And that's not including the cigarette in her mouth.
Click here to read the full article at HoustonChronicle.com or click here for a screenshot
MORE UNIQUE & POPULAR PRODUCTS: